Color Guard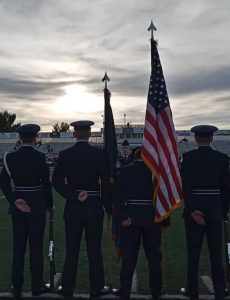 Ashly Olivas-Pena, PVHS CG Event CC
Rayna Kay, PVHS CG Event CV

Tristen Mastin, PVHS CG Event Sup

Andrew Barnum, CCHS CG Event CC

Kara Abbott, CCHS CG Event CV

Stuart Flowers, CCHS CG Event Sup

Christian Klunker, HHS CG Event CC

Destinee Barlow, HHS CG Event CV

Daniel Howard, HHS CG Event Sup
                  Time: Tue & Thu 15:30
                  Location: LDR Room
Vision:
The best Color Guard team made up of cadets who execute coordinated events with professionalism and skill as well as  excel in competitions.
Mission:
Develop cadets dedicated and skilled in the completion of Color Guard events and ceremonies who show traits of responsibility, professionalism, and teamwork.
Goals:
Recruiting: 40-50 active cadets by the end of 2021 ASY
Retention: 90% Retention of Current Cadets
Competition: ‌Rank‌ ‌in‌ ‌Top‌ ‌40%‌ ‌of‌ ‌Schools‌ ‌in‌ ‌UT‌ ‌by‌ ‌the‌ ‌End‌ ‌of‌ ‌2021‌ ‌ASY.‌ 
Individual: New cadets earn badge/cord, returning cadets maintain devices. All members receive ribbon quarterly by participating in 5 or more events.